I have feisty feelings | From Karis
View this email in your browser
I am, unfortunately, not in Vermont anymore 🌧️
Hi !
Well, well, well. It's finally February. And I do mean "finally," cause January? Lasted approximately six years. Granted, 10 days out of the 31 were absolutely, thrillingly, mind-trippingly spent at residency and I loved (almost) every second of them. Still. It's a new month, yay!
If you'd like to know how residency turned out (aka if last newsletter wasn't enough for you), check out this article I wrote for LitReactor.
Here's what you can expect from this newsletter:
From the heart: am I a bad person?

From the shelf: a book I've loved recently

From the page: words matter, so you should write them
And my forever-pitch: if something here resonates with you, do feel free to share with a friend! Email me to let me know! Subscribe a friend (with their permission)!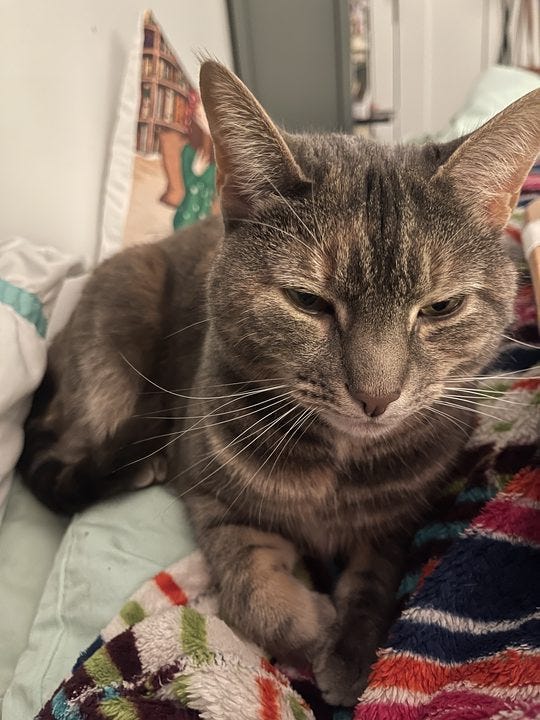 From the heart 💗
What if I'm a bad person?
That's a text I sent my friend last night. The poor thing was very confused at finding herself the unwitting recipient of my daily identity crisis, but sometimes I just need a place to put the thoughts roiling in my brain. That's what today is.
I have a lot of complexes around needing to be a good person: universally beloved & hailed as someone who makes things and places and people better & worthy of being saved. Oop, there it is, isn't? I grew up being fed a very firm notion of the afterlife, where the bad (unsaved) burn in Hell and the good (saved) glory in Heaven. And you know what, I think that fucked me up a little (maybe a lot).
These days, I have pretty soundly rejected the evangelical religion I was raised in, but it's really hard to unstitch that Heaven/Hell mentality from my brain. The idea that if I'm just…good…enough, I will have eternal joy and safety. The idea that if I fall a little short, I'll literally be tortured in the flames for eternity. In my little complexed-up brain, I've of late translated that fear of not being good enough into a general, "am I a good person?" question.
And today I realized that, to some people, I am (yay!).
But just as surely, there are people who think I'm a bad person (boo).
There are the people I didn't like and was a jerk to in middle school. The friends whom I view with distaste after a friendship breakup probably have their own versions of what went down, where I'm the villain. There are strangers on Twitter who, I'm sure, think I'm bad — actually, there's definitely that one dude who wrote a whole thread about how I'm a fake feminist "liberal" because of a Hadestown take I tweeted. So, like, there are definitely people to whom I'm the villain!

Which scares the shit out of me. Because if they think I'm a bad person, doesn't that mean that I…am? Their perception is their reality, soo…
And this is why I texted my friend in a tizzy. It's why sometimes I can't sleep at night. It's what I talk about ad nauseum in therapy. What if I'm a bad person?
Except this time, I had an answer: maybe I am. And?
I know I'm a flawed human, but that doesn't make me bad. I'm trying my best to do good by the people who surround me. I've made mistakes. I'm ashamed of things. I've hurt people. I cannot let that derail me.
Not because it's unimportant, but because it already happened. And ultimately, it's often less about how you fuck up than it is about how you react. (caveat: there are exceptions, like if I intentionally do bad shit. and no one owes me forgiveness or friendship.) And I'm working really hard to react well: to course-correct, to examine myself, to become better.
Maybe it's not about being "good" or "bad." Maybe it's just about becoming better, a little bit every day. Hmm. Much to consider.
From the shelf 📚
Today in "books I need to scream about," it's Beach Read time! Yes, I know I'm RIDICULOUSLY late to this train. In fact, like, three other Emily Henry trains swept along between the publication of this book and today. But here I am: ready to talk about Beach Read!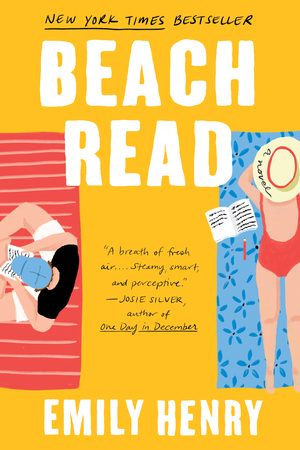 I'm simply aghast at how much I loved this book. It's not that I wanted to hate it, I just like didn't think I was going to fall head over heels for it. Which is exactly what I did. Listen, as a general rule I'm not that into men these days, but Gus Everett? I'll allow him. I loved the character arcs in this book, fell head over heels for side characters like Pete, and found myself howling with laughter at points.
Ugh! It's just really good! I'm mad about it (cause I didn't write it). It's fine. Life goes on. Read Beach Read.
From the page ✍️
Last spring, I published an article on how book bans affect authors' mental health. One subject that came up in the article from the authors I spoke with was the way these challenges, bans, and overall silencing of diverse voices terrify authors, who start to question whether they should write the next book. Authors are asking themselves whether they should write their stories, or change tactics in order to avoid losing speaking opportunities, placement in schools and libraries, and important income streams.
Hearing that broke my heart, and I'm thinking about it today. I'm working on a new article about book bans, have recently attended a talk at residency about book bans, and am generally just enraged.
Words matter. Words have power. Words can break, yes, but they can heal, restore hope, make you feel seen. Stories matter. Stories have power. Stories can change people's minds about things, even about things as big as systemic racism, homophobia, misogyny. Most of my big epiphanies about life have come through stories, told in words, often written on a page.
I tell my own stories. I write the pain and the heartache as well as the beauty and the celebration. I've found healing in reading others' words and offered healing in my own.
And I'm furious. Incandescent with rage. Terrified. Because the thing is, book bans are both evil in themselves and likely portenders of more evil to come — like changing, restrictive laws.
So today I have a twofold urge for you. To the writers in the room: write your stories. Learn your craft, excel in it, tell your stories of hope and bravery and resilience and joy. Let your characters shine, especially the ones who aren't white, cishet, able-bodied, neurotypical. Shake the foundations of the world with your words.
And to everyone else (and also the writers, lol, you get two tasks): speak up. Go to school board and library board meetings and speak in favor of diverse books, and against challenges and bans. Idc, write your local representatives and tell them to get their shit together and fight challenges and bans, too. Do what you can (and by this I mean, what you are physically and mentally and spoon-fully able to) to fight back. Because this is a fight, and it's not going anywhere.
Copyright © *|CURRENT_YEAR|* *|LIST:COMPANY|*, All rights reserved.
*|IFNOT:ARCHIVE_PAGE|* *|LIST:DESCRIPTION|*

Our mailing address is:
*|HTML:LIST_ADDRESS_HTML|* *|END:IF|*

Want to change how you receive these emails?
You can update your preferences or unsubscribe from this list.

*|IF:REWARDS|* *|HTML:REWARDS|* *|END:IF|*